Predict the future as the Vikings did !

RUNEDISKS ™ is an exciting system of foretelling the future just as the Vikings did over one thousand years ago! Each set is hand crafted in our studios of natural materials. Each rune is fashioned from wood and fire and then hand finished to a wonderful sheen that will mellow and deepen over the years, giving you many hours of pleasure .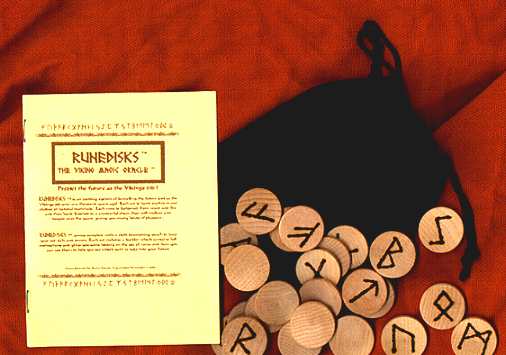 RUNEDISKS ™ comes complete with:
25 hand crafted wooden RUNEDISKS ™
1 cloth drawstring pouch to keep your set
safe and secure.
Each set includes a booklet which contains
full instructions and gives you some history
on the use of runes and how you can use
them to help you see which path to
take into your future.
You can have your own set of
RUNEDISKS ™
for only $18 + $5 S/H via USPS Priority Mail

Click on the button below
to buy this game online
now using a secure
credit card server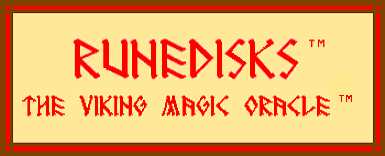 Send an e-mail to the address below
and we'll send you complete ordering
Information for payment by either
Check or Money Order
sales@dragonsanddanes.com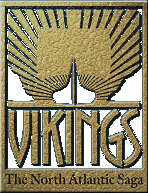 Dragons & Danes ™ The Original Viking Battle Game
was a featured item at many museum gift shops during
the North American tour of The Smithsonian Institution's
traveling exhibit
Vikings:The North Atlantic Saga
This fabulous traveling exhibit was seen
at museums across North America for the last
few years.
You can still purchase a copy of Dragons & Danes ™
from us by clicking the button below or visiting our web based store.

These Pages Created and Maintained using
Arachnophilia.